Simply You Box
Je kan iedere week kiezen uit 12 recepten: vegetarisch, vlees en vis gerechten.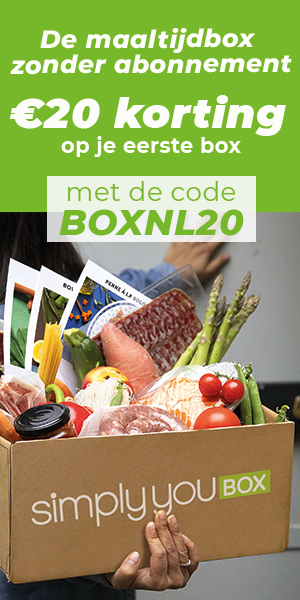 De maaltijdbox van Carrefour bevat degelijke porties, verse ingrediënten en de gerechten zijn eenvoudig te maken. Er wordt zoveel als mogelijk met lokale, Belgische producten gewerkt. Kies voor thuislevering of haal de box op in een Carrefour winkel. De boxen zijn voor 1, 2, 3, 4 en 5 personen met een keus uit 3,4 of 5 recepten per week. Een box voor een gezin van 4 personen met 5 maaltijden per week kost €89,50. Dat is omgerekend €4,45 per portie.
Geen abonnement
Simply You werkt zonder abonnement. De gekoelde box wordt 1x per week geleverd. Als je tevreden bent kan je natuurlijk wel voor meerdere weken bestellen. Je ontvangt dan iedere week een box. Je naam staat altijd op de box vermeld. Op de dag van thuislevering ontvang je een e-mail met een track & trace link zodat je jouw maaltijdbox kan volgen. De box wordt tussen 17.00 – 22.00 uur geleverd.
Adres
Je kan een ander adres opgeven dan je eigen woonadres. De bezorger brengt de box naar je voordeur ook als je in een flat woont. Er moet dan wel een lift aanwezig zijn anders gaat de bezorger niet verder dan de 3e verdieping.
Klantenservice
De klantenservice is in het Nederlands of Frans. Voor de eerste bestelling moet er een klant account aangemaakt worden. Je kan niet je Carrefour account gebruiken. Contact met de klantenservice kan met e-mail of via het contactformulier op de website.