Kortingscode
Bijna alle aanbieders van maaltijdboxen werken met een kortingscode. Op de eerste boxen krijg je korting die kan oplopen tot enkele tientallen euro's. Een mooi moment om eens kennis te maken met een bepaalde aanbieder. De aanbieders werken met flexibele lidmaatschappen die wekelijks aangepast, gepauzeerd of gestopt kunnen worden.
HelloFresh

HelloFresh is de bekendste maaltijdbox in België. Regelmatig hebben ze aanbiedingen waarbij je tientallen euro's bespaard op je eerste boxen.
Familiebox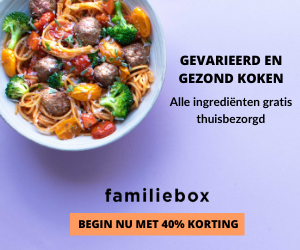 De standaard prijs voor 4 maaltijden per week voor twee personen is €52,50 (€6,50 per portie). Nieuwe klanten kunnen op de eerste bestellingen 40% korting ontvangen. Dit maakt het aantrekkelijk om de Familiebox eens uit te proberen.
Marley Spoon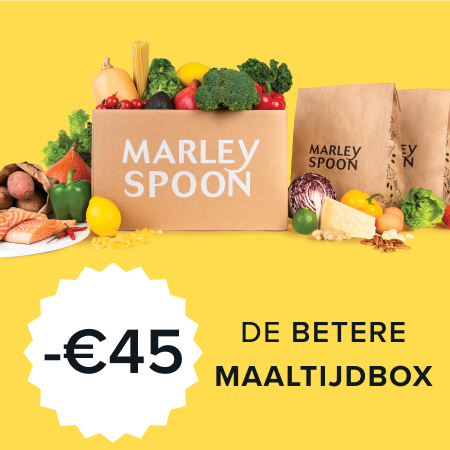 Nieuwe klanten van Marley Spoon kunnen tot €45 korting ontvangen. Na ontvangst van je eerste foodbox kan je bepalen of je meer bestellingen wilt ontvangen. In de app kun je alle informatie over de recepten vinden en je bestellingen aanpassen.
Foodbag

Foodbag heeft een kortingscode van €15 op de eerste Sana maaltijdenbox. Sana is een gezonde kookstijl waarbij groenten centraal staan.