HelloFresh
HelloFresh is een van oorsprong Duits bedrijf dat maaltijdboxen bezorgt. Het werd in 2011 opgericht en is marktleider in Europa en de Verenigde Staten. De combinatie van kwaliteit en prijs zorgen ervoor dat HelloFresh ook in België de nummer 1 is.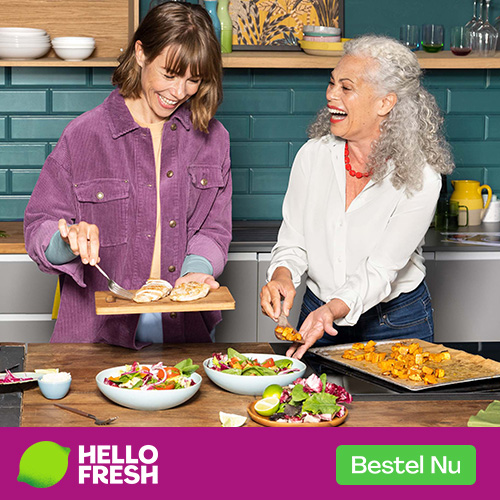 HelloFresh Box bestellen
Een maaltijdbox bestellen kan via de website of de app. Eerst kies je een aantal recepten uit en vervolgens hoeveel maaltijden (3-6) je wilt ontvangen en voor hoeveel personen (1-6). Er is iedere week keus uit 30 recepten. Een alleenstaande die 5 maaltijden bestelt betaalt €8,19* per portie. Hoe meer personen bestellen, hoe lager de prijs wordt. Bij 5 maaltijden voor 2 personen per week zakt de prijs naar €5* per portie. Vijf maaltijden voor 4 personen per week (20 porties) levert een prijs op van €4,25* per portie. De eerste bestellingen leveren een gezamenlijke korting van 40* euro op.
Recepten
Elke week vind je meer dan 30 recepten bij HelloFresh. Zoek je iets voor de familie, een veggie recept, populair recept of gewoon lekker snel? Je kunt je menu iedere week aanpassen in je account.
– Veggie (zonder vlees of vis): minstens 9 recepten iedere week
– Lekker Snel (15-25 minuten): minstens 6 recepten iedere week
– Familie (hele gezin): minstens 5 recepten iedere week
– Balans (veel groente, weinig calorieën): minstens 4 recepten iedere week
– Bourgondisch & Premium: minstens 3 recepten iedere week
Maaltijdboxen